You need secure, trusted and scalable auction software to run your Police Auctions Online
Whether there are 60 police sales or only one, 50,000 or only 15 internet bids. Whatever your needs, you can be sure that for the duration of your online event, you will receive the greatest service, support, and technology. You've come to the right site if you're looking for police auction software that specialises in the sale of unclaimed and forfeited assets.
In little time at all, your auction might be up on your own website. Every day, people all over the world use our auction software to sell a lot of things efficiently and effectively.
Your platform will promote your own brand and events while coordinating with your current advertising campaigns thanks to our own branding and colour schemes.
Every bidder that registers to bid is accessible to you, allowing you to advertise both your online auctions and other events.
Online auction solutions for your business
🎥 Live Webcast Auctions
⏳ Timed Online Auctions
📈 Marketplace
👩‍💻 Remote Clerking option
✅ Everything you need & will run from your own website
🏷 White Label Auction Software – 'value protect your bidders & IP' ( Not a group site
)
So modern works on all devices without frustrating bidders to download apps
🧑‍💻 Includes Setup, Training & Local Ongoing Support
🧾 Auction invoicing & reporting
🖥 Websites & marketing
😊 Simple for bidders and powerful for auctioneers
So ready to get started?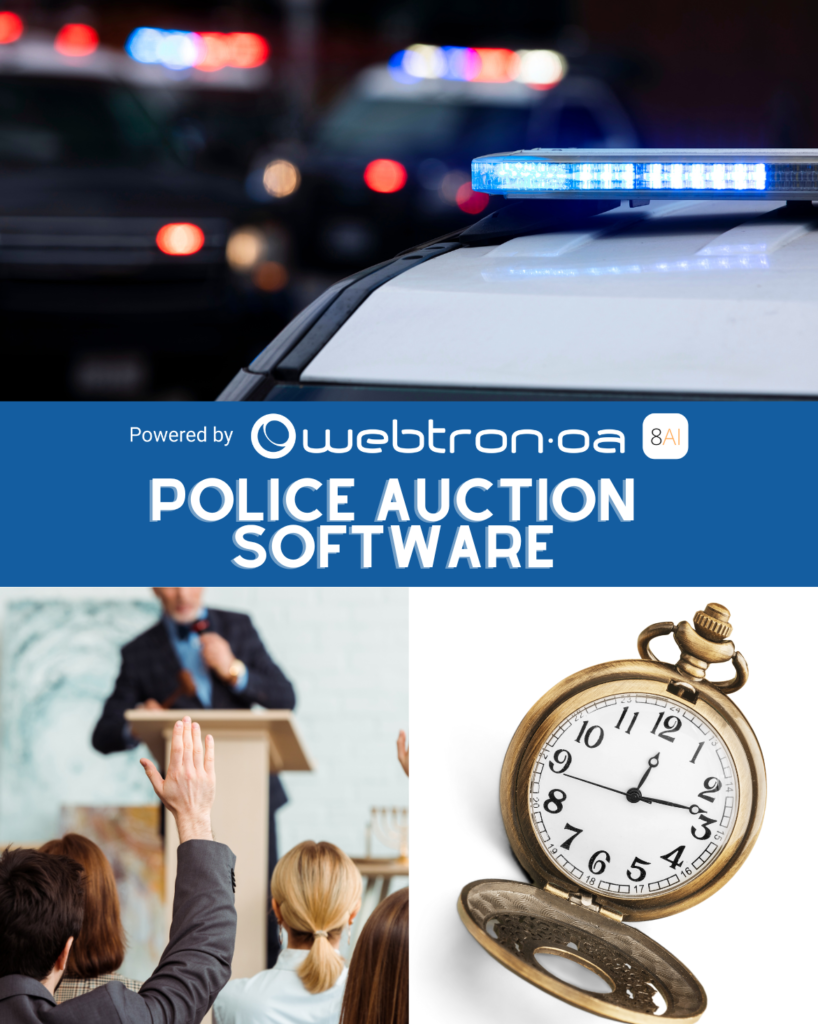 The New Webtron 8.0AI Auction Software is here
There has never been a better time to upgrade your online auction software to Webtron's 8.0AI newest artificial intelligence auction software release.
Get ahead of the competition and take advantage of a white-label auction solution that runs from your own website. It has been designed for Police auctioneers like you to take your online auction business to another level.
Simple for bidders and powerful for auctioneers'.
Please get in touch and arrange a demo today!
FAQS
What is police auction software?

Police auction software is a type of software used by law enforcement agencies to manage the sale of confiscated or seized property through online auctions. The software enables agencies to streamline the auction process and reach a wider audience of potential buyers.

What are the benefits of using police auction software?

Using police auction software can provide several benefits for law enforcement agencies. It allows them to sell confiscated or seized property more efficiently, reducing storage costs and generating revenue that can be used to fund law enforcement operations. It can also provide a transparent and fair bidding process, and reach a wider audience of potential buyers, which can increase competition and result in higher sale prices.

How does police auction software work?

Police auction software typically includes a user-friendly interface for both buyers and sellers, allowing law enforcement agencies to list items for auction and buyers to browse and bid on items. The software may include features such as automated bidding, payment processing, and shipping options to streamline the process.

What types of items can be sold through police auction software?

Police auction software can be used to sell a wide range of confiscated or seized property, including vehicles, electronics, jewellery, and more. The specific types of items sold may vary depending on the policies and procedures of the law enforcement agency.